<input type="button" style="background-color:#dadada;color:black;height:40px;" value="
titan Speedmac High Speed Moulder
The Titan Speedmac Moulders are designed for high-capacity, high speed productions for large and small batch production runs. The heavy-duty spindles are dynamically balanced and run on precision bearings, for superior workpiece finish quality.
Providing perfect surface quality, eliminating the need for sanding on planed and profiled surfaces. Width and thickness setting controller is supplied as standard, lowering downtime and increasing efficiency.
Feed system
The smooth initial feeding of the stock is achieved by means of the independently powered infeed rollers.
PNEUMATIC PUSHING ROLLER
Adjustable air pressure powerful feeding idle roller provides more stable and faster feeding.
SIDE PRESSURE WHEELS FOR LEFT SPINDLE
The adjustable side pressure wheels are pneumatically operated to ensure consistent holding pressure.
A Wide Range of Spindle Configurations (other configurations available on request)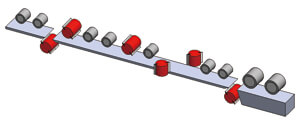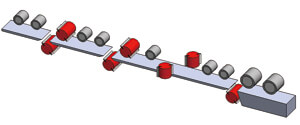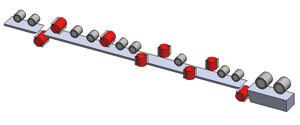 | | | |
| --- | --- | --- |
| SPECIFICATIONS | Speedmac Models | Available Options |
| Number of Heads / Spindles, min-max | 2 to 11 | All different types of Spindle Configurations - optional |
| Working width (with a tool cutting circle of 163mm) | 20-300mm (0.78"-9") | to 310mm (12.2"), 330mm (13") |
| Working height (with a tool cutting circle of 163mm) | 10-150mm (0.39"-6") | to 6mm (.25") to 200 (8") |
| Basic Spindle Motor capacity - Wye-Delta Soft Starts on all motors | 11/12KW (15HP) | to 37.5KW / 50HP |
| Spindle Diameter | 50mm | 1 13/16" / 2 1/8" |
| Spindle Speed | 6000 RPM | 7200 / 8000 RPM |
| Tool cutting circle, First Bottom Spindle, min-max | 125-200mm (5"-7.8") |   |
| Tool cutting circle, Vertical Spindles, min-max | 140-250mm (5.5"-9.8") |   |
| Tool cutting circle, Horizontal Spindles, min-max | 140--250mm (5.5"-9.8") |   |
| Feed Motor | 11KW / 15HP / INVERTER | 115 / 18.5KW (20 / 25HP / INVERTER) |
| Feed speed, infinitely variable by frequency (VFD) driven | 6-60 m/min (20 / 200fpm) | 9-90m/min (30-300fpm) |
| Top Infeed Rolls - Diameter | 205.36mm (8") |   |
| other Top Feed Rolls - Diameter | 140mm (5.5") |   |
| Top Feed Roll Width - Multiple Rolls Stacked on each Top Roll Shaft | 50mm (2") / Roll |   |
| Bottom Feed Roll Width | Full Width |   |
| Pneumatic pressure for feed rollers, max | 6 bar (85psi) |   |
| Adjustment range for Infeed Table (Btm Head Cut) and Edge Jointing Fence | 10mm (.4") |   |
| Adjustment range of vertical spindles (axial) | 80mm (3.2") |   |
| Adjustment range of horizontal spindles (axial) | 40mm (1.6") |   |
| Length of the Infeed / Straightening table | 0.8M (32") | 1.4 / 2 / 2.5 / 3M (55" / 78" / 98" / 120") |
| Diameter of Dust Hoods for Vertical & Horizontal Spindles | Ø175mm (6.9") |   |
| Digital Readouts on All Axis of all Heads | Std. |   |
| Digital Readouts for the Chip Breaker Shoes & Pressure Shoes | Std. |   |
| Full Sound and Safety Enclosure w/ Strobe Free Lighting | Std. |   |
| Motorized vertical adjustment of Feed Beam | Std. |   |
| Multiple Lateral Pneumatic Pressure Roller opposite first right spindle | Std. |   |
| Chainless Extra HD Cardan Shaft Feed System | Std. |   |
| REC Setworks on Near Side Head (s) & Top (s) - Radial | Std. |   |
                                                                                              [Photos are for reference only. Machine models may vary from photos shown]