<input type="button" style="background-color:#dadada;color:black;height:40px;" value="
titan sM-625TS/735TS Tilting & Sliding sPINDLE mOULDER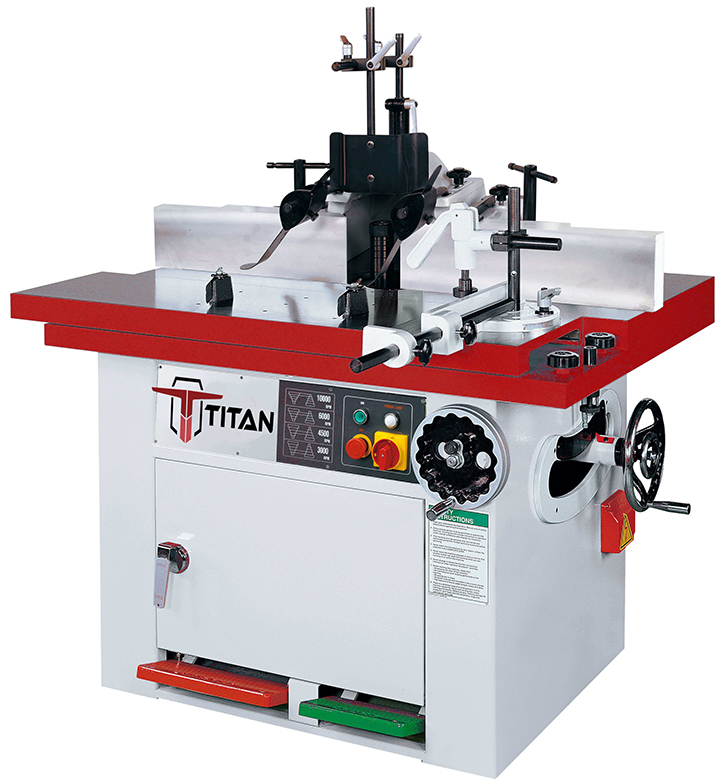 The Titan SM-625TS/735TS is a heavy duty spindle moulder suitable for all kinds of profiling in both hard and soft timbers. With interchangeable spindles and quick change spindle speeds this machine is well suited to the serious jobbing shop or heavy joinery. The sliding table give the added option of end profile work such as tenoning.
Sliding Table
The sliding table is an integrated system providing maximum accuracy and effortless cutting effect. Tenoning attachment is included as a standard feature.
Tilting Spindle
The tilting spindle provides angle cutting from -5° ~ 0° ~ +45°. Spindle tilting handwheel is located at the front within easy reach. A tilt scale is attached for accurate angle setting.
Foot Spindle Brake
Treadle plate provides instant stop of the running spindle after shutting off the power.
Interchangeable spindles
Choice of 4 spindle diameters. Spindle has MK5 taper to ensure precision and allow quick changeover.
SPECIFICATIONS

SM-625TS

SM-735TS

Spindle diameter options:

3/4", 1", 1-1/4", 1-3/8"

(19, 25.4, 30, 35mm)

1", 1-1/4", 1-3/8", 1-1/2"

(25.4, 30, 35, 40mm)

Spindle speed:
3,000 / 4,500 / 7,500 / 10,000 RPM
Taper of spindle:
MK5
Spindle motor:
7.5HP / 3PH

7.5 HP /3PH

(10HP / 3PH optional)

Spindle travel:
5" (130mm)
7" (180mm)
Tilting angle:
-5° ~ 0° ~ +45°
-5°~90°~+45°
Table size:
1050 x 800mm
930 x 1220mm
Table height:
35-1/2" (900mm)
35-1/2" (900mm)
Sliding table size:
1050 x 250mm
13" x 48" (330 x 1220mm)
Sliding table travel:
38" (970mm)
46" (1170mm)
Fence size:
127 x 425mm x 2pcs
146 x 600mm x 2PCS
Net Weight / Gross Weight:
485 kg / 550 kg
720kg / 800 kg
Packing dimensions:
48'' (L) x 46'' (W) x 50''(H)
53"(L) x 52"(W) x 51"(H)
                                                                                              [Photos are for reference only. Machine models may vary from photos shown]