<input type="button" style="background-color:#dadada;color:black;height:40px;" value="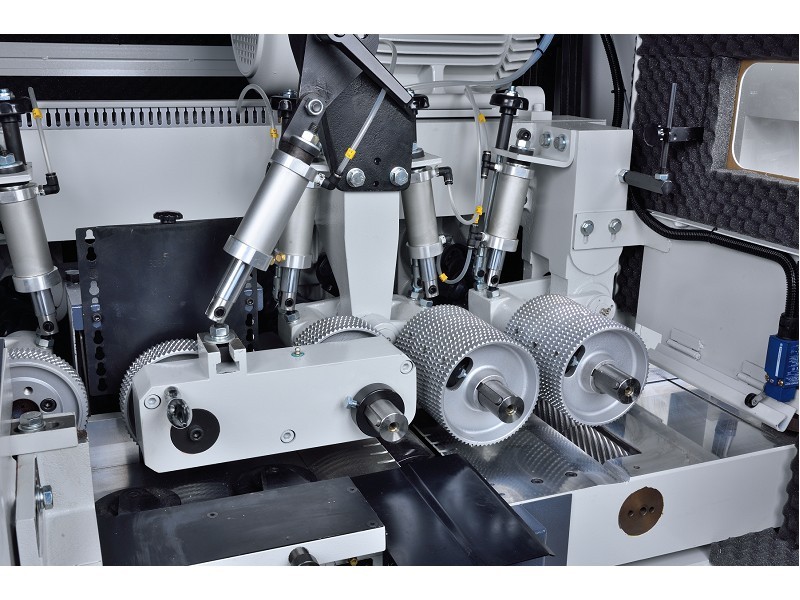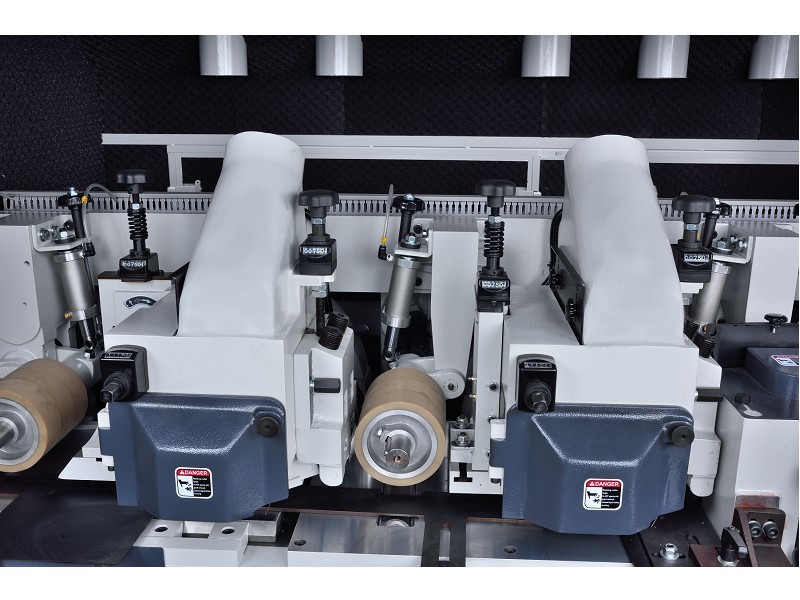 The Titan Platinum Moulders are solid machines designed to provide fast set up times and the highest accuracy. Suitable for heavy joinery or medium sawmilling applications in both soft and hardwoods.
Powered bottom infeed roller
Using independently powered infeed rollers, extra smooth initial feeding on stock can be achieved.
auxiliary feed roller
The short stock powered feed mechanism provides added smoothness for short workpiece feeding. The auxiliary feed rollers are power driven for effortless feeding effect, and are quick-liftable for convenient cutterhead change or setup.
Accurate Pressure Display
The position of the Top Head Chip Breakers and Pressure Plates are accurately displayed by digital counters. This increases cutting stability.
A Wide Range of Spindle Configurations (other configurations available on request)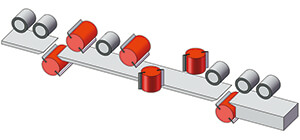 SPECIFICATIONS

Platinum Models

Available Options

Working Width

(at a tool cutting circle of 140mm)

15-230mm (0.59"-9.1")

to 260mm, 300mm or 330mm (10.2", 12" or 13" optional)

Working Height

(at a tool cutting circle of 163mm)

10-150mm (0.39"-6")

to 6mm & to 200mm or 250mm (to 1/4" & to 8" or 10") - optional

Number of Spindles, min-max

1 to 8 Heads / Spindles

All different types of Spindle Configurations - optional

Universal Last Head or Rip Saw Attachment

Available - option

 

Basic motor Capacity of Feed - VFD - Variable Frequency Drive

2.2KW / 5HP

to 18.5KW/25HP - optional

Feed speed, infinitely variable by frequency driven motor

6 - 30 m/min (20 - 100 fpm)

7200 RPM or 8000 RPM

Basic Motor Capacity per Spindle

7.5KW / 10HP Vert & 11KW / 15HP Hor.

50mm, 1 1/2", 1 13/16"

Spindle Speed

6000 RPM

 

Spindle Diameter

40mm (1.6")

 

Tool cutting circle, first bottom spindle, min-max

125-160mm (4.9"-6.3")

 

Tool cutting circle, vertical spindles, left, min-max

112-200mm (4.4"-7.9")

 

Tool cutting circle, vertical spindles, right, min-max

112-200mm (4.4"-7.9")

 

Tool cutting circle, horizontal spindles, top, min-max

112-200mm (4.4"-7.9")

 

Tool cutting circle, horizontal spindles, bottom, min-max

112-200mm (4.4"-7.9")

 

Feed roller diameter

140mm (5.5")

 

Top Feed roller width - each roll with multiples on all Top shafts

3 x 50mm (2")

 

Bottom Feed Roll Width

Full Width

 

Pneumatic pressure for feed rollers, max

6 bar (85psi)

 

Adjustment range for Infeed Table

10mm (0.4")

 

Adjustment range for Edge-jointing Fence

10mm (0.4")

 

Adjustment range of Vertical Spindles (axial)

40mm (1.58")

100mm (4") - optional with set works if desired

Adjustment range of Horizontal Spindles (axial)

20mm (0.79")

 

Length of the straightening table

2M (78.7")

1.5M, 2.5M or 3M (58", 98" or 120" - optional)

Diameter of Dust Hood for vertical spindle

125mm (5")

 

Diameter of Dust Hood for horizontal spindle

125mm (5")

 

Chainless Cardan Shaft Feed System w/ HD Gearboxes

Standard

 

Motorized vertical adjustment of feed beam

Standard

 

Lateral pressure roller opposite first right spindle

Spring Tensioned Standard

Pneumatic Tensioned - optional

Sectional Radial Lift - Linage Style Top Head Chipbreakers

Spring Tensioned Standard

Pneumatic Tensioned - optional

Mechanical digital readouts for the pressure shoes & hold-down unit

Standard

Metric or Inch Readouts

Mechanical Digital Readouts on all Spindle Axis

Single - Std.

Dual on Near Side, & Tops - Radial Readouts & Quik Set - optional

Central location of all lubrication points at the front of the machine

Standard

 

Auto Table Lube System

Standard

 

Full sound and safety enclosure

Standard

 
                                                                                              [Photos are for reference only. Machine models may vary from photos shown]